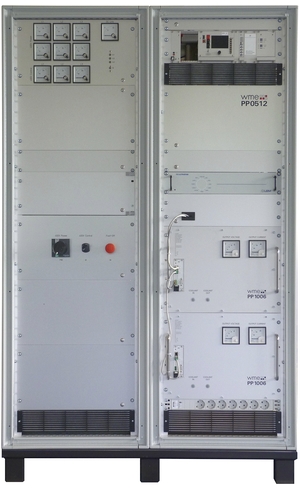 The PP0512 is a magnet power supply unit that will be used to feed the chicane dipole magnets of the High Energy Storage Ring for Antiprotons HESR at the Facility for Antiproton and Ion Research FAIR in Darmstadt.
The water-cooled power supply provides output currents of up to 1100A at output voltages of up to 50V. It consists of a transformer/rectifier/filter unit and a consecutive DC/DC converter power part including protection and supervision circuits.
The 4-phase step down DC/DC converter features excellent efficiency > 97% at high load voltages. High efficiency and water-cooling leads to low operating temperatures within the system racks. The 4-phase power stage concept results in very low output ripple.
Precision current regulation and control of the unit is carried out by the GSI control interface ACU. A high precision DCCT is integrated into the unit. The power stage communicates via GSI's proprietary USI interface.
The unit is fully protected against overload, over temperature and short circuit. Many operational parameters like mains voltages, water flow, internal supply voltages, internal temperatures, power switch desaturation, input and output overvoltage and driver status are monitored. In case of a malfunction the unit will shut down and the status is stored. For a quick overview, the complete status information is indicated on the front panel.
The construction is based on a twin 19" cabinet.
Specifications
| | |
| --- | --- |
| Output Current | 1 - 1100 A |
| Output Voltage | 0 - 50 V |
| Input Voltage | 400 V |
| Efficiency | > 0.87 |
| Ambient Temperature | +10°C - +40°C |
| Dimensions (w x h x d) | 1200 x 2250 x 800 mm3 |
| Weight | ca. 700 kg |