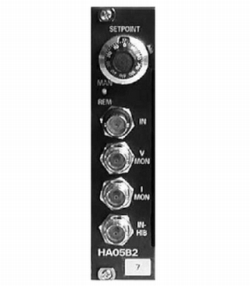 ±500V, 1W, Precision High Voltage Amplifier

The precision high voltage amplifier HA05B2 is a standard 19" plug-in unit of 3U / 6HP. The output voltage is -500V to +500V at load current of ±2mA. The control voltage ranges from -10V to +10V and the gain is 50.
The amplifier features high precision, very high stability and low noise, thereby making the unit well suited even for voltage reference applications.
The output voltage is controlled by a control voltage which can be either provided via its nominal value input or set by a 10-turn potentiometer. Monitor outputs for voltage and current are provided. Furthermore, the unit is equipped with a fast inhibit input effectively clamping the output voltage to 0V.
The output is protected against overload, short circuit and transient overvoltage.
High-Speed versions up to 15kHz bandwidth / 50V/µs slew rate are available on request.
Features


Output ±500V / ±2mA
High Precision
High Stability
Low Noise
Remote On / Off
Monitor Outputs
19"-Plug-in Unit 3U / 6HP

Applications


Electrostatic deflection
HV voltage reference
Testing
Ion guidance
Specifications
Output Voltage
-500 V to +500 V
Load Current
-2 mA to +2 mA
Gain
50 ±0.2%
Temperature Coefficient
5 ppm/K (typ.)
Stability
< ± 100 ppm
Load Regulation
< 100 ppm (no load / full load)
Ripple / Noise
< 10 mVPP / < 1 mVRMS
Voltage Monitor
-10 - +10V / -500V - +500V ±0.2%
Current Monitor
-10 - +10V / -2mA - +2mA ±0.2%
Inhibit Input
Amplifier On: -15V - +1.5V
Amplifier Off: +2.4V - +15V or open
Inhibit Response Time
Amplifier On->Off: < 10 µs
Amplifier Off->On: ca. 2.5 ms
Supply Voltage +24V
+20 - +28 VDC, < 100 mA
Supply Voltage +540V
+530 - +550 VDC, < 4 mA
Supply Voltage -540V
-530 - -550 VDC, < 4 mA
Power Bandwidth
> 500 Hz
Slew-Rate
> 2 V/µs
Operating Temp.
0°C - +40°C